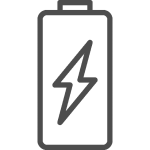 Battery for Honghao S12 / S13
Size M (~24Ah) – 48*km
Size L (~28,8Ah) – 58*km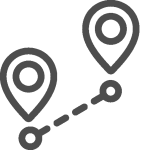 More kilometers on a single charge*
Your favorite Kugoo scooter with an even bigger range. Forget about constantly checking your battery level and Focus on the most important thing. Get anywhere you like with our City Lion external battery. Always on time.
* The stated range of the scooter is real but indicative – ultimately the range depends on many factors, such as weight of the user, speed and driving style, air temperature, type of surface, etc.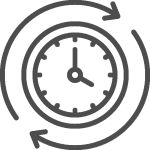 Up to 1000 charging cycles
In our batteries, we use only proven and brand-new cells from reputable manufacturers, which guarantee up to 1000 charging cycles. We do not use recycled cells, which is common practice in this industry. Longer battery life means not only peace of mind and greater range, but also care for the natural environment.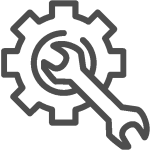 Easy assembly
After the purchase, you will receive a message from us with detailed assembly instructions, and in case of any difficulties, our technicians will be happy to answer any questions.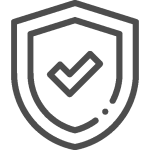 Highest quality guaranteed
We are a Poland-based company that produces additional batteries for the most popular models of city scooters. Before shipment, each product is subject to strict quality control. We sell solutions that we use every day.
Frequently asked questions
How is the secondary battery charged?
The secondary battery is connected to the platform (internal) battery of the scooter in parallel. This means that the voltages of the two packs equalize all the time. Therefore, the secondary battery charges simultaneously with the platform battery. The charger LED will light up green when both batteries are fully charged.
Do I need to modify my scooter's software?
Software modification is only required on Xiaomi and Ninebot branded scooters. An Android device (phone or tablet) will be required for this process. At this time, there is no corresponding app for iOS. On any other vehicle, this is not required.
You do not have a battery on offer for my vehicle. Can you create a battery for me?
There are countless electric vehicles on the market, which doesn't mean we won't be able to power your vehicle! Please use the Bespoke Batteries form and provide us with all the necessary information - we will do our best to complete the project for you. Each vehicle has different connectors on its internal battery. Without providing us with this information we will not be able to help you.
Does the auxiliary battery increase the power and speed of my scooter?
By default, the auxiliary battery does not increase the power and maximum speed of the scooter per se, but it does affect power and speed indirectly. The point is that the scooter only reaches full power when the battery is full. By fitting an auxiliary battery, we will be able to ride at top speed for longer and accelerate dynamically. It is also possible to generate modified software for Xiaomi or Ninebot scooters according to your own preferences, in which we will increase the power or maximum speed of the scooter. Please note that this may lead to the motor of the scooter overheating more frequently, which may result in permanent damage to the vehicle. You do this at your own risk!
Will fitting an auxiliary battery to my vehicle invalidate the manufacturer's warranty?
Unfortunately, it is impossible to make this clear. In theory, any tampering with the interior of the scooter or opening it up could invalidate the warranty. However, in our experience, performing installation work in a sensitive manner will not invalidate the warranty. Ultimately, it is still up to the manufacturer and their service department.
Can I use an additional charger for my extra battery?
This is possible. For a price of £50 we will include a special adapter (XT-60 -> RCA 5.5 x 2.1) in your delivery, with which it will be possible to connect the secondary battery directly to the charger. You will need a charger with identical parameters (max. 4A) with the "DC5521" plug.
I already have a battery from City Lion. Can I replace it with a larger one?
Unfortunately, this is not an option.
What is the delivery time?
For additional batteries, this is usually a maximum of 6 working days. In extreme cases, the delivery time can be up to 10 working days. For all other orders, the delivery time is determined individually, but should not be more than 14 working days.
What is the reason for the lead time? Do you sell Chinese batteries?
On the contrary, the faucets are made by us in our workshop in Warsaw. Most of the faucets are made to order, so the time to dispatch is a few days.
Why such a price? I can find much cheaper batteries online.
We are a legally operating manufacturer - we pay taxes in Poland and our prices include VAT. Each pack is handcrafted from the highest quality new branded cells. In addition, we provide a 12-month guarantee on every purchase.