Battery for Kugoo G-Booster
*** 23 200 mAh 48V ***
Kugoo G-Booster is a great equipment that provides a lot of fun. Unfortunately, the original battery on Chinese cells quickly loses its charm and often needs to be replaced after just one season.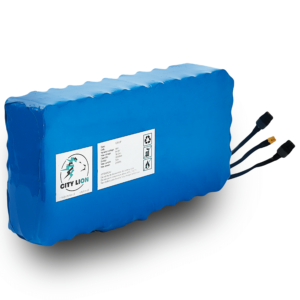 City Lion offers an alternative – a battery with a capacity of 23.2 Ah, which is built on branded cells that provide up to 1000 charging cycles. This battery lasts much longer than originally installed.

The 23.2 Ah battery will allow you to travel up to 85  kilometers in economical driving mode (on one engine), about 45 kilometers in mixed mode, 25-30 kilometers in dynamic driving mode (2 engines).
Easy battery assembly – with our instructions it won't take you more than 15 minutes!
In our batteries, we only use LG, Samsung, SANYO and Panasonic cells that we have tested, which provide up to 1000 charging cycles.
Quality control –  our batteries are made in Poland by City Lion Sp. z  o. o. We carefully test all batteries before shipment. We guarantee high quality and long product life.
If you are looking for a battery for a different model of a scooter or electric vehicle, please visit the "TO ORDER" subpage.
Most of the batteries are made to order – hence the longer delivery time!